25 February 2022
Salesforce certification and professional growth: Davide Calbi's winning bet
Davide Calbi, BU CRM Delivery Director South Europe Region of the Mashfrog Group, spoke to us about his Salesforce training and certifications which enable him to boost customer growth in Italy and abroad.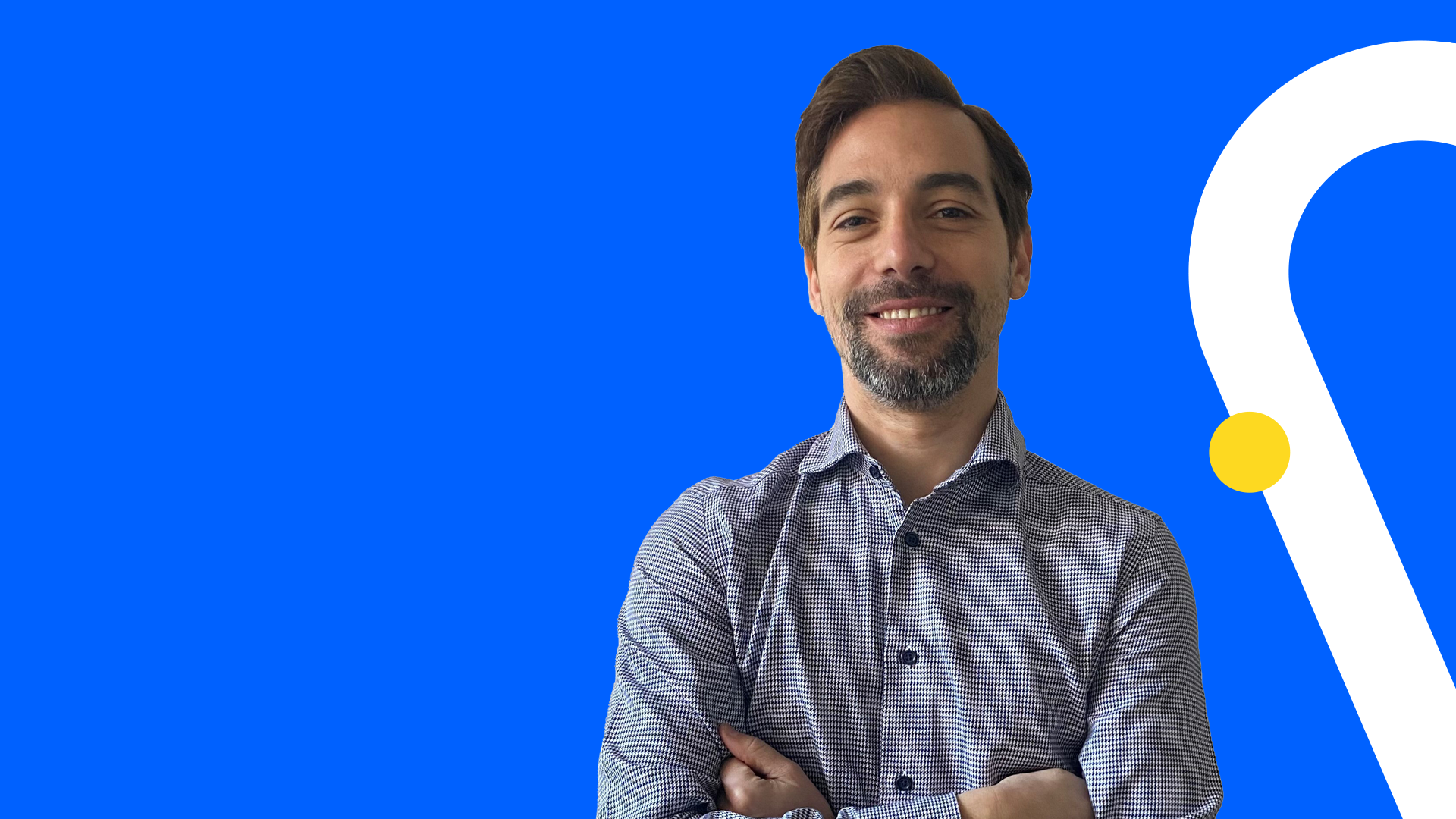 Davide has been working in Mashfrog Group for about a year. Today he speaks to us about his professional growt and specialised skills in this field.
Let's start by talking about your training and professional career…
My training has been in two main directions: I obtained a Master's Degree in IT, after which I immediately began working in consultancy. As soon as I started working, I enrolled in Economy and Statistics because I wanted to specialise in forecasting for banking, which was not so common then. After a couple of years, a banking recession started which soon led me to change direction. However, my studies were still very useful for learning how to make decisions based on a series of forecasting data.
From a professional perspective, I worked for over ten years in a large consulting firm. I then worked for a year in Zurich, where I started focusing on technologies that I believed would arrive in Italy a few years later. Which was what actually happened. In fact, in that last period, my professional development increased greatly, with frequent job changes in order to capitalise on my knowledge. Basically, my studies and foreign experience allowed me to progress quickly, from being a simple analyst to my current role as Southern Europe Region Deliveries Director for all Salesforce projects.
What was your first encounter with Salesforce?
I started working with Salesforce technology during my first foreign experience in Zurich. There I took part in one of the company's most important and critical digital transformation projects in the area of Salesforce and integration. I was responsible for the integration side. There I saw versions of Salesforce that were so advanced that I had never heard of them, even though I already had the latest knowledge of this technology. At that point, I knew it was a sure bet that Salesforce would soon arrive also in Italy, together with an agile management methodology. I began obtaining certifications four years ago, and now they're in great demand for tender applications and project management.
When did you start with Mashfrog?
I joined Mashfrog Group on 8 March 2021 as an Integration Manager, but I immediately made a significant contribution to the CRM BU Director in business development. From a managerial perspective, I have grown a lot within the company. I will soon become a teacher in the first Mashfrog Salesforce Academy on the core section of the platform in Italy and the MENA Region. This will cover the entire pre-sales and offering area, where my extensive knowledge of the platform has helped convert leads into potential sales opportunities. Thanks to my knowledge of English, I will also able to collaborate with the foreign branches of the Group, from Pracedo to Mashfrog DOO, with their respective offices in London and Belgrade.
How are our customers distributed within Salesforce?
To date, the CRM BU is made up of about 25 professionals, based in Italy and Serbia, in addition to the professionals that make up the Pracedo ecosystem in the UK. With regard to customers, we manage a good number of small and medium projects in Italy and are about to conclude an agreement with a very important company, whose business processes we are studying in order to offer them the best solutions for their needs. There is also strong collaboration with Pracedo, and more generally the intention to work increasingly with foreign customers, both in the MENA Region and in the UK, which is why a high level of competence in English is becoming essential in our business unit.
We are a hybrid team by definition, because, having created a foreign academy, we have a number of colleagues who do not speak Italian, so in order to collaborate with each other and with customers it is necessary to speak a foreign language.
Tell us about your Salesforce certifications: How many do you have? Which ones have you obtained so far? And what are your next goals?
As I said at the start, I began taking Salesforce certification long before I came to Mashfrog and before the platform was well known in Italy. So, within the group, I follow my own course of training to continue growing at a managerial level. In fact, acquiring these certifications allows me to gain an in-depth knowledge of the platform, which is essential in the presale and offering phase, to make the right offer estimates and reassure potential customers, but above all to show that we have mastery of the product we are selling.
have taken nine Salesforce and ten Scrum certifications (out of a total of 12), in order to train for both products side by side. Salesforce in particular has numerous certifications in different areas, but the main ones I specialise in are marketing, sales and after-sales. I am currently focusing my studies on all the solutions available in these three areas. More specifically, I have just received App Builder certification, for the Low Code configurations of the core section of the platform, this is very useful knowledge for business development.
Now I'm focusing on getting marketing certifications, to optimise the conversion of visitors into potential customers. Thanks to the skills acquired with these certifications, I can guide customers to Salesforce solutions that are best suited to meet their requests. With this knowledge, I aim to lead them to the solution that will give them the most relevant information for growing their business on a single platform through configurations - without having to develop an ad hoc code.
What do you find so compelling about the Salesforce world and why would you recommend this solution to a customer?
Salesforce appeals to me because it contains all the elements that allow complete customer management, through a single platform. This solution covers all the areas where a customer can operate, from marketing to after-sales. I wouldn't recommend it to everyone. It is necessary to conduct a cost-benefit analysis to evaluate the customer's actual need for this solution, since it has licensing costs that are not within everyone's budget. There is no particular company type more suited to this solution. It can work well for small, medium and large companies, but we need to examine the reasons why they are seeking a technological solution different to their own, the business goals they want to achieve and whether an investment in Salesforce is worthwhile.
Could we say that your bet on Salesforce has paid off?
I started studying Salesforce after my first work experience abroad, where I discovered the existence of a CRM that can centralise all user information in a single platform. I understood that my skills with this product could provide added value both for me and for many customers who want to improve their business. So far, I can confirm that my bet has paid off, given that in recent years this solution has also become widely used in Italy.