09 December 2020
Social Media Marketing. What a social strategy is and how it works
What does it mean to do Social Media Marketing? How do you set up a good social strategy? And what are the main opportunities for a brand?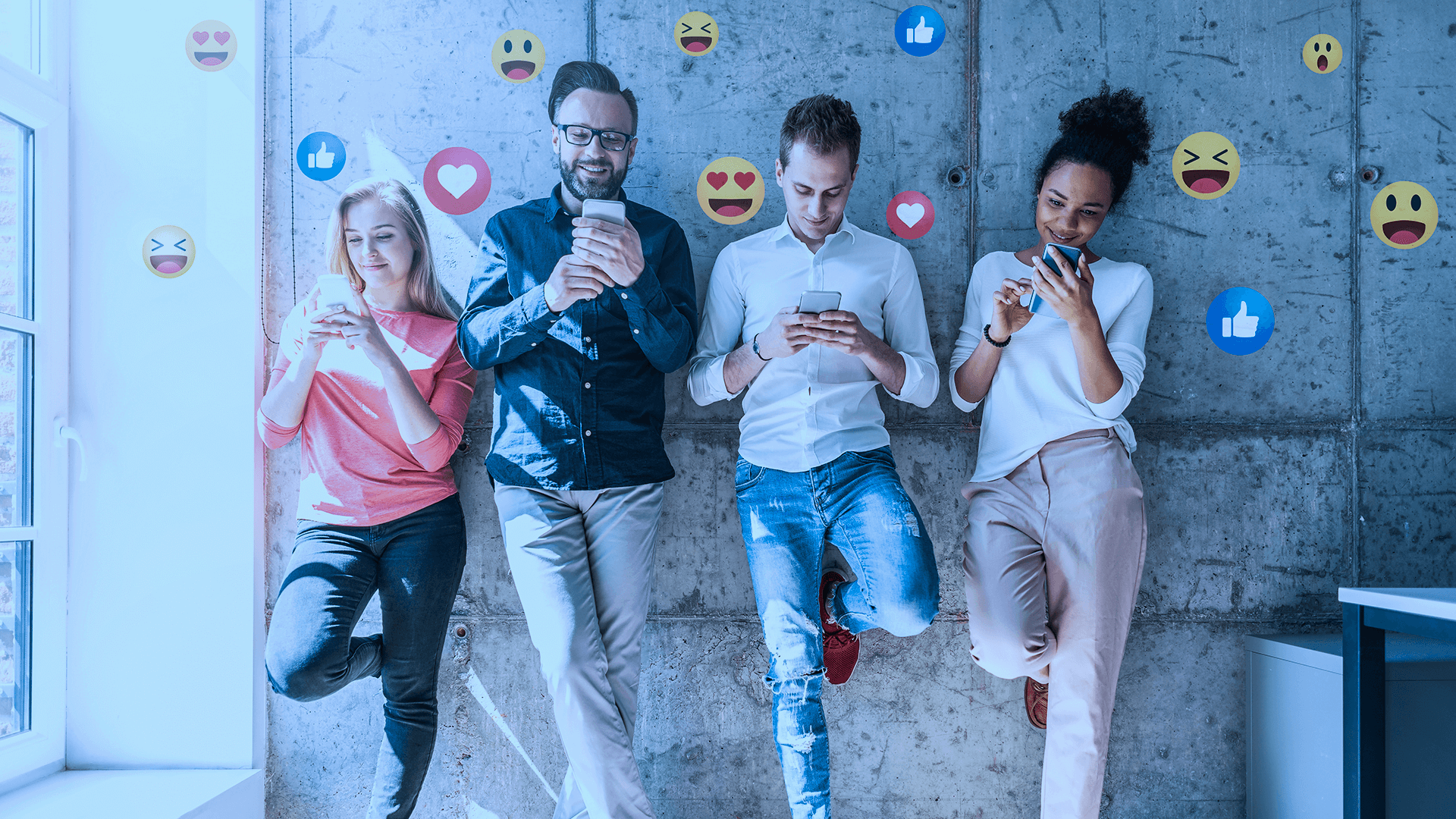 Andrea Manchisi, Social Media Manager of the mashfrog Group, told us about his experience in social media marketing and explained the added value of this activity for the reputation and business of a brand. This topic was also the subject of a webinar for the "mashfrog digital youniversity", a series of virtual training meetings created with the aim of enriching and sharing the skills of the Group's various business lines.
What it is and how it works
Andrea introduces the topic by first explaining what social media marketing is, defined as
"the set of digital marketing and communication strategies applied to online media channels, through which brands/companies/ public bodies promote their image, products and/or services and capture in a widespread way broader and more profiled customer audiences than traditional media, in order to generate visibility, create interactions and stimulate the consumer to make the final purchase".
To summarise, we could say that this definition includes all those promotional activities (traffic and conversion campaigns), relational activities (user engagement campaigns) and brand positioning activities (online reputation campaigns) conducted on social media. It differs from traditional marketing because it allows the brand to interact directly with the final consumer, who is no longer a passive spectator, but becomes an active part. This means that it is not enough to build simple content, but it is necessary to know how to interact and involve the target audience.
Social media marketing can be understood as a macro-set which includes two subsets: SMO and SMA.
- SMO stands for Social Media Optimisation and refers to that organic strategic process in which original online content is generated, aimed at motivating an audience to interact with a particular website, brand or product.
- SMA stands for Social Media Advertising and includes all paid activities that increase organic activity and are based on advertisements aimed at specific audiences, captured through profiling parameters and conveyed on social channels.
Social media marketing thus operates in both the communication and marketing sectors. Communication is expressed through creativity in the production of editorial strategies for branding; marketing is carried out in the analysis of profiling data in order to create optimisation strategies aimed at achieving economic objectives.
Characteristics of social networks
Each social network has its own specific characteristics and is populated by specific audience segments. Therefore, there is no right and absolute communication strategy, but an ad hoc strategic plan must be developed for each customer and for each channel. However, there are some characteristics that all social networks have in common. These are:
- bidirectional
- participatory
- Instantaneous
- emotional
- innovative
- reactive
The specificity that Andrea attributes to social media marketing is also interesting; namely, that of being a link between the online and the offline world. According to this approach, the contents that are shared on social networks are nothing more than the technological evolution of traditional advertising, where there was always a copy and a visual, but applied to online communication they take on other connotations, reach a huge user base and follow the logic of digital marketing.
Differences and strengths of various social media
At this point Andrea gets to the heart of the discussion and lists the main characteristics of the various social media, starting with the most widespread and used.
Facebook
- generalist, which means multiple audience segments to profile, but much wider customer audiences;
- large pool of active users (about two and a half billion);
- multi-target, so it can be used in almost all sectors;
- dynamic and customisable, also thanks to extensions such as dashboard customisation.
Instagram
- social mobile, created as an app for publishing instant photos on smartphones and for this reason user flow derives mostly from mobile devices;
- digital addicted users;
- presence of influencers especially in the fashion, personal care and food sectors;
- visual content, a real strength, which was then defined in various formats (video, IG stories).
LinkedIn
- social business, especially indicated for B2B branding;
- professional target, more niche than a generalist social network like Facebook;
- business-oriented.
Twitter
- microblogging platform;
- smart users, who like to stay informed;
- profiled on news, gossips, politics and entertainment;
- real-time communications through instant news.
YouTube
- video-sharing platform;
- large user base, even if younger than for FB;
- profiled on the games, cinema and music sectors;
- possibility of implementing brand identity strategies thanks to the evocative power of video;
- positioning on search engines, because it is a platform owned by Google;
Pinterest
- social commerce, because it promotes brand product images;
- female user base (80%);
- profiled on the DIY, furniture, fashion and food sectors;
- brand visibility and site traffic, thanks to the pins that link directly to the product/service page of reference.
Advertising platforms
The following are the advertising platforms most used to launch ad campaigns on social media:
- Facebook Business Manager, from which you can manage ads on Facebook, Chat Messenger, Instagram and WhatsApp
- LinkedIn Ads
- Twitter Ads
- Google Ads, from which you can also plan campaigns on YouTube
- Pinterest Ads Manager
Some macro-objectives can be defined for all advertising platforms, namely:
- Reputation/awareness, through campaigns aimed at generating interest;
- Consideration/engagement/traffic, through campaigns that induce people to knowing the brand;
- Conversion/lead generation, through campaigns that aim to stimulate the purchase.
Reputation, consideration and conversion represent precise moments in the conversion funnel whereby, through a long-term structured social media marketing strategy, we can shift the user's need from latent to conscious, thus increasing the customer's profit.
Phases of the social strategy
At this point Andrea tells us which are the various work phases of a social strategy, necessary for achieving the objectives agreed with the customer.
1. Scenario analysis. Analysis of brand history, competitors and the reference sector.
2. Objectives and KPIs. Choose the most effective performance indicators on which to create an effective strategy (awareness, sales, both?).
3. Target. Identify the audience segments most interested in the product/service offered.
4. Channels. Understanding which social channels respond best to the type of business.
5. Budget. The economic effort of the customer necessary for understanding which advertising investment is conceivable.
6. Value proposition. What is the added value of the brand compared with its competitors.
Once these phases have been defined, the Social Media Voice must be identified, i.e. the editorial tone through which we will communicate the brand on social channels. To do this, it is necessary to know the target audience in depth and set a communication objective to decide which themes to share and in which way. If the target is B2B, channels such as Twitter and LinkedIn may be preferred, where a more corporate communication can be set up and companies and stakeholders of the reference business can be captured; for a B2C target channels such as Facebook, Instagram, YouTube and Pinterest might be chosen, where it is possible to adopt a more informal editorial line aimed at the final consumer.
Why choose social channels: strengths and opportunities for companies
The main strength of social channels is the possibility of using very transversal means that reach different types of targets, but Andrea goes into more detail and lists all the advantages and disadvantages of social media marketing.
Advantages
- Increase in brand reputation and brand awareness
- Increase in visits to website, landing page, blog
- Increase in business contacts (leads) and sales
- Increase in customer loyalty and brand perception
- Improved customer satisfaction
Disadvantages
The main disadvantage of social networks is that what is written remains and can become a boomerang for the customer. This is why it is important to rely on sector professionals who know how to apply the best communication strategies for the brand and know the target audiences of the various channels.
Social strategy
According to Andrea, a good social strategy must be:
- inclusive, because it must take advantage of both organic and paid channels; content alone is not enough;
- multi-channel, because overseeing multiple channels allows you to identify different audience segments in line with the customer's business.
- integrated, because integration with other marketing and communication services allows you to create a broader and more effective strategy.
In conclusion, the social strategy must differentiate itself from traditional marketing, it can no longer be just self-referential and corporate, but must be customised, direct, effective and persuasive, in order to be able to adapt to the specific needs of each customer and each sector.