19 July 2023
Mashfrog Creative Solutions with Tiscali at Rock in Roma
Tiscali is Official Partner of Rock in Roma 2023, one of the most anticipated international rock festivals of the year. The design of the concept and realisation of the stand is the work of Mashfrog Creative Solutions.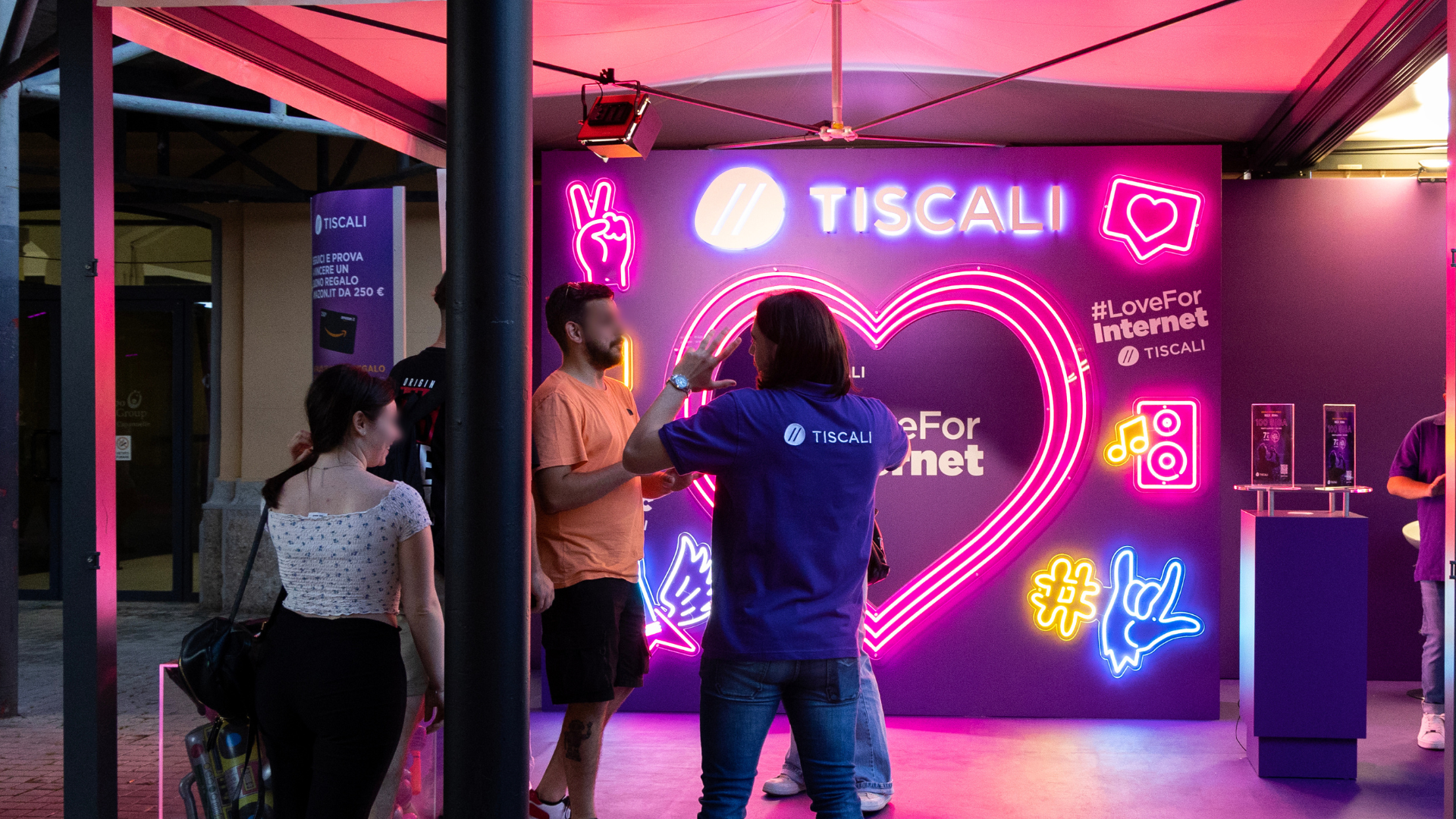 When two creative realities come together, the result can only be extraordinary. This is exactly what is happening at Rock in Roma 2023, the annual music festival taking place at the Ippodromo delle Capannelle, of which Tiscali is Official Partner this year. In this edition the energy of rock blends with the creativity of Mashfrog Creative Solutions, selected by Tiscali to design and create an extraordinary stand, an oasis of creativity and interactivity in the heart of the event.
Tiscali (also) celebrates the love of music
Based on the concept of Tiscali's latest commercial, "Love for the Internet", we created a unique creative project that encapsulates the essence of the festival and reflects the soul of Tiscali. In addition to the realisation of all the creative aspects linked to the branding of the stand, the Creative team helped to bring the stand's engagement activities to life, thanks to the conception and realisation of the Social Wall in which to take Instagrammable photos with a musical theme.
Tiscali's stand at Rock in Roma thus becomes not only a meeting point, but an experience that combines music, technology and interaction, combining the atmosphere of Rock in Roma with the "love of the Internet" that was the fil rouge of Tiscali's latest commercial.
A solid and long-lasting partnership
With this activity, the collaboration with Tiscali is extended and consolidated. In fact, we have already had the pleasure of working with this client in the past, creating projects that have achieved great success: one of them was the production of the "Love for Internet" commercial, which captured the public's attention with its originality and cheerful tone, becoming a landmark in the advertising scene.
The trust and mutual respect between two companies has helped create a solid and long-lasting partnership based on the commitment to excellence and innovation.