16 February 2023
A truly female leadership: interview with Milena Fabrizi
Milena Fabrizi is the new Enterprise Digital Evolution BU Director at Mashfrog Group. In this interview she told us about her approach and the main objectives she sets for the growth of her business unit.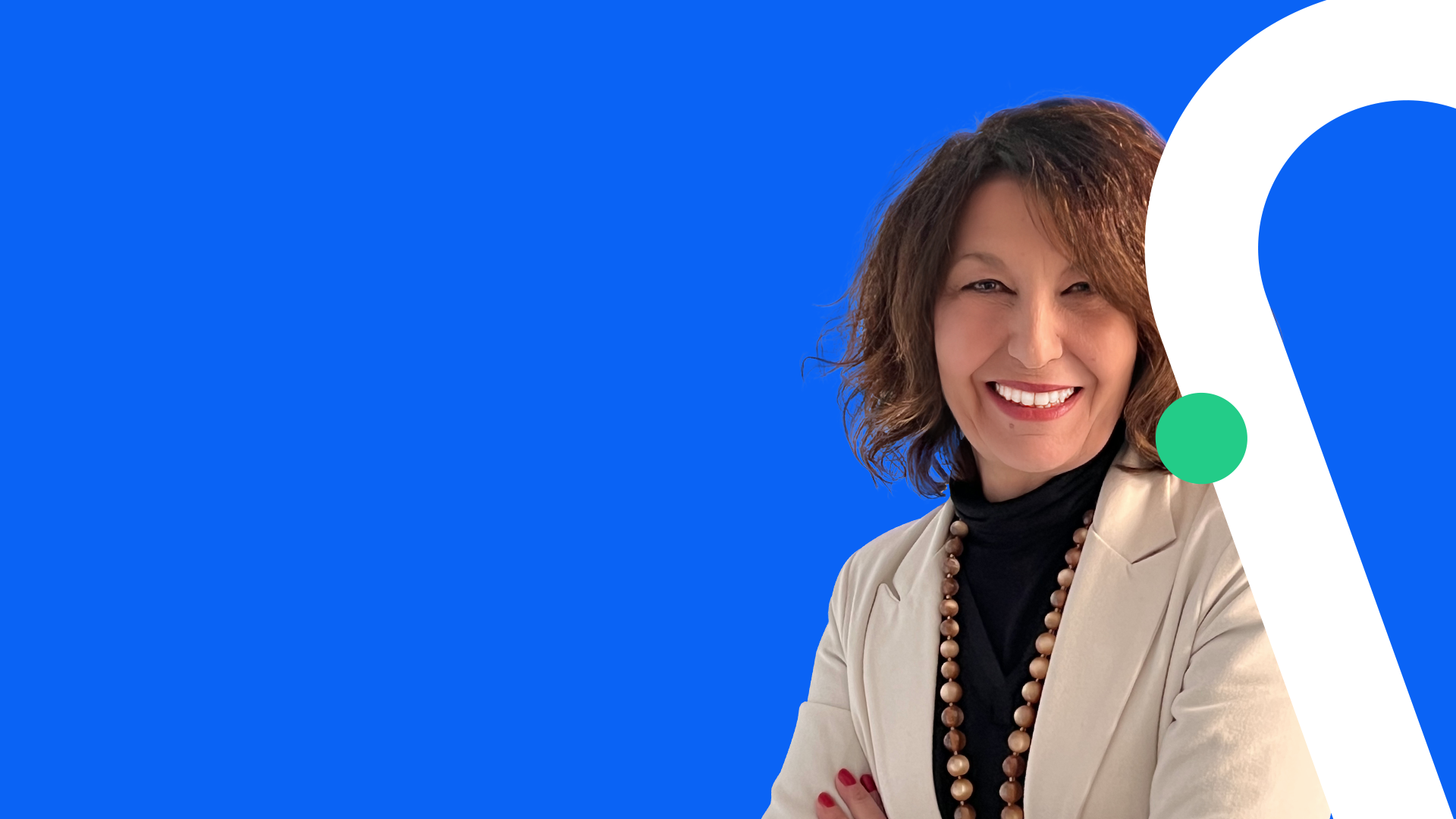 Innovate, grow and diversify: these three concepts are the main objectives that Milena Fabrizi, the new Enterprise Digital Evolution BU Director of Mashfrog Group, has set for 2023. We spoke with her about teams, projects and future prospects, but also about the mistrust she had to face to become a successful manager in a predominantly male professional environment.
Tell us first of all about your career path.
I started out more than 25 years ago: after university and a degree in economics, I started my career in consultancy companies, initially dealing with SAP technology. At first I worked as a consultant, but over time I held increasingly complex project management and coordination posts for increasingly strategic customers. About five years ago, I became head of delivery, managing a team of over 200 people.
When and with which goals did you join Mashfrog?
I joined the company in November 2022 as the Enterprise Digital Evolution BU Director to coordinate a team of professionals dealing with technological solutions that support companies in their business decisions, with a focus on SAP solutions.

I essentially have two main objectives: on the one hand to grow this Business Unit by increasing the workforce by an additional 50% by the end of the year; on the other hand to concentrate the business on more innovative solutions and still a little niche for now which increasingly focus on the Cloud. The decision to rename this BU as "Enterprise Digital Evolution" reflects the desire to move towards evolutionary SAP technology solutions, whilst continuing to strengthen already consolidated skills.
You are at the head of a very large international team: how is it structured and what are the key features of your leadership?
We have recently updated our internal organisation to ensure a more organic structure to all delivery aspects: on the one hand we have identified a series of managers who coordinate resources according to the areas of expertise (from process to technological areas), also favouring their knowledge of increasingly innovative and updated solutions. On the other hand, we have identified managers for foreign markets, namely the US and Serbia, where there are important growth objectives. Lastly, we have appointed some project managers, which is also a complex aspect that needs specific and well-defined skills, all the more so if we aim to reach increasingly important customers.
The team is located at the company's various offices, in particular in Serbia, the US and the United Arab Emirates, though the headquarters remain in Italy. Namely, more than 80 employees work at the Milan headquarters, but we are also growing a lot in Rome: in January alone we hired more than ten resources and we expect to hire more throughout the year. The aim is to diversify, both in terms of skills and design, in order to also allow our consultants to grow professionally as they face various environments.
What are the main markets in which we have ongoing projects?
As mentioned, this year's goal is to grow and diversify. This is why, in recent months we have worked very hard on defining new proposals and taking part in various tenders, especially with government agencies and we have many opportunities to develop in the coming months. We are already starting to see the first results: just a few days ago we completed the Framework Agreement with a top company like Enel. Again in Italy, in addition to maintaining our long-standing partnership with Prysmian, we have started to work together on the most innovative technologies provided by SAP.
On international markets we have recently acquired a key customer operating in the renewable energy sector with a strong presence in the Middle East and Africa, though it is expanding globally. This is a very challenging programme, rather than a project, as it involves a series of aspects we will be working on for the next few years.
Female managers in a male professional environment: have you ever felt discriminated against?
Surely in today's business environments there is a greater awareness of the need and benefits of also supporting women's work. The percentage of women in senior management positions remains extremely low. On average about 20% of top positions are filled by women and the gender difference is often seen in the salary gap as well, so there are certainly disparities that still need to be addressed. Women and men have different characteristics and often different approaches, which leads to greater diversification in terms of creative ideas, innovations and insights that can only positively influence company decisions and strategies, thereby creating added value.
As for my personal experience, over the years I have undoubtedly perceived some difference in treatment, especially when it came to affirming my role and my managerial approach and style. I must say that I do not have this feeling at Mashfrog. On the contrary, I feel that relationships are very humane, which I think is very important. I believe that people make the difference in a company and that the force of teamwork is unmatched. Probably being a woman, together with my strong focus the human aspect, has made it more difficult to support and affirm some choices that can sometimes deviate from more conventional managerial styles.
Innovation, growth and diversification: can we sum up your 2023 goals in this way?
Absolutely yes, these are the business objectives, but there is another goal that I have set for myself and is equally important: to integrate existing staff with future personnel in a harmonious and peaceful way. Despite the short period of time, I feel that this is already happening, both because of the reception perceived by the newly-hired staff and the open approach that those who were already in the company are showing me. By the end of the year I would like to have a team with members who feel closer to each other, so that they can all feel part of a winning team and help each other. Precisely to promote this exchange, we are already carrying out in-house training courses, with the dual purpose both of sharing skills in specific areas, and help people meet directly to make it easier for them to work together in future.